Amanda Zimmerman, our February 2023 "Volunteer of the Month," first caught the volunteering bug in middle school. She hasn't looked back since.
She's now an "all in" volunteer at KidWorks.
Amanda is a retail real estate development professional at KZ Companies, LLC, in Irvine, California. She graduated from the University of San Diego in 2018 with degrees in finance and real estate.
At KZ Companies, Amanda's responsibilities as a Senior Associate include working with the acquisitions team, sourcing ground-up retail development projects on the west coast.
It's a big job, yet Amanda is as fully committed to KidWorks as she is to the real estate profession she's always loved.
Amanda first began volunteering when she was in middle school.
"I grew up spending my after school and summer hours volunteering from a young age," Amanda recalls. "In middle and high school, I was involved with the National Charity League. It was there I gained a true love and appreciation for giving back to the community.
"In my senior year of high school, I received an award for most hours volunteered out of our organization. I loved serving food at the soup kitchen and reading books and tutoring at an underprivileged school."
She adds, "For the past four years, I've served on the Boys and Girls Clubs of San Dieguito Jr. Board. We planned several main events per year."
Amanda's partnership with KidWorks includes serving on the committee that led last September's third annual Rose' on the Bay event, which raised $25,000 for KidWorks' programs. Over 100 women attended—twice the amount who participated in 2021. Guests enjoyed food, wine and live music while relaxing at the scenic Newport Harbor.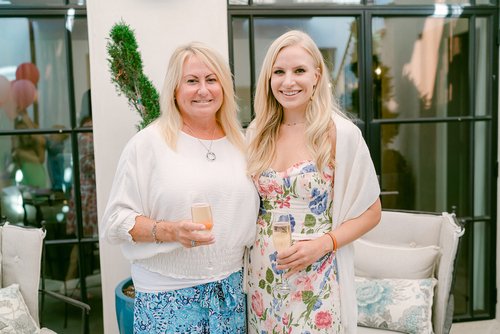 "Amanda is a vibrant, young career woman and brought a fresh new perspective to the team," says Sue Willett, Chair for Rose' on the Bay. "I was so pleased that she invited lots of her friends to the event and helped to make it the huge success that it was. I'm looking forward to working with her again this year."
"I was honored to have participated on the Rose on the Bay Committee in 2022," Amanda says. "I assisted with planning, gathered raffle items, secured the photographer and invited a group of young professionals."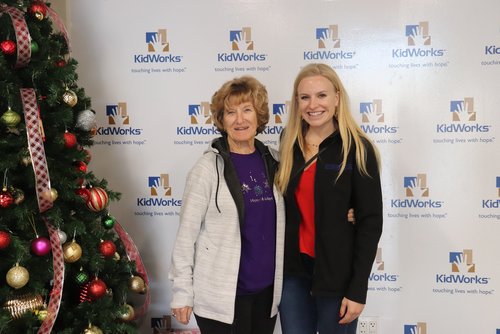 Amanda is also active in Young Professionals for KidWorks, a volunteer group of almost two dozen individuals in their 20s and 30s who help at our events and after school programs, recruit other volunteers and get the word out about KidWorks via social media and networking.
"Amanda is always the first to raise her hand to volunteer," says Melissa Ley Marshall, Co-Chair of the group and a First Vice President at CBRE in Newport Beach. "She volunteers and engages both her personal and professional network to raise awareness of KidWorks and the young professionals group."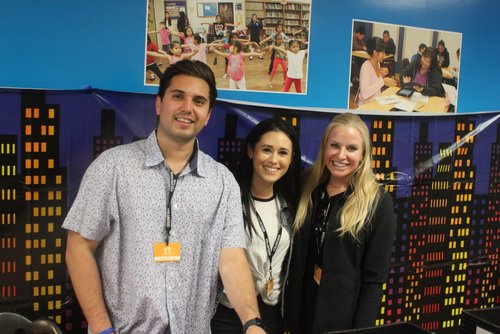 Amanda has also played a role in introducing many new people to KidWorks, says Lisa Gels, our Associate Director of Development.
"Amanda has championed multi-generational attendance at our events with lots of mothers and their adult daughters attending," Lisa says. "This very often leads to additional partnership with us for years to come."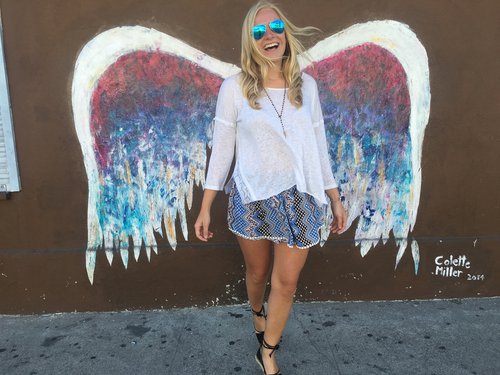 Adds Lisa, "Amanda is a delight to work with. She does everything with a positive attitude and welcoming smile and she follows through on anything she commits to.
"It's truly amazing to work with Amanda; we love that she's so deeply involved. It's clear she also has a true heart for our children and youth."
While not busy helping out with KidWorks events, our Volunteer of the Month also enjoys times with our students.
"I absolutely love being in person with kids, whether that's reading, tutoring, playing games, or just being there as a mentor," Amanda says. "My hope is that KidWorks continues to help kids from pre-school though adulthood to accomplish their goals in education and careers."
Amanda was first drawn to KidWorks when she attended our Festival of OC Chefs event in 2022.
"Many organizations that are in need of help and volunteers," Amanda says. "However, from the moment that I walked into this event and listened to the speakers, I knew that KidWorks was an organization that I wanted to give my time and resources to.
"I felt connected with the mission of KidWorks and how it's a faith-based organization. Everyone that attended was caring, ambitious and enthusiastic about the importance of education."
Amanda invites others to share the joy she experiences at KidWorks.
"Come to one of KidWorks' events and you'll want to attend them all," Amanda says. "KidWorks provides a sense of community that's like nothing I've experienced before. It's family.
"By volunteering with KidWorks you'll have an opportunity to make an impact on a child's life and also teach valuable skills."
We are deeply grateful that Amanda is such an integral part of the community we call KidWorks. We're so glad she's "all in" with us in every way.
By Glenn Leibowitz, volunteer writer
We invite employees and professionals at any stage in their career along with companies/organizations to learn more about ways to volunteer and partner with KidWorks.
https://www.kzcompanies.com/wp-content/uploads/2023/02/IMG_1655.jpeg
667
500
KZ Companies
https://www.kzcompanies.com/wp-content/uploads/2015/05/kzcompanieslogo.png
KZ Companies
2023-02-21 08:19:50
2023-02-21 08:28:22
February 2023 'Volunteer of the Month':  Amanda Zimmerman